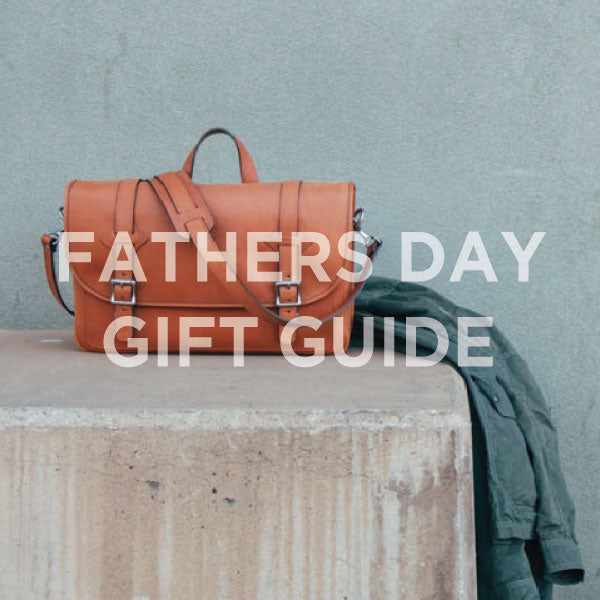 Father's Day Gift Guide 2019
Father's Day is under a week away so we wanted to help you out on your fathers day gift buying quest for the fathers in your life.
Here are a couple of our favorites for the #stockerfam fathers. 
1. DJI OSMO Pocket Camera - Park purchased this camera for me (Whit) for Mother's day and we are obsessed. Any dad who loves to make videos for business, travel or even home videos will LOVE this camera. It is so small but extremely capable so it is nice to have with you anywhere and everywhere. 
         -Osmo Accessory Pack - A great accessory pack for your OSMO pocket
2. Stock & Barrel Messenger Bag - Our personal favorite color of leather is the Natural Tan messenger bag. The color is top notch and will age beautifully making it really unique to its owner. 
             *Use Gift Guide Coupon Code for 15% off - 'FATHERSDAY15'
3. Traeger Grill - A dream grill, for sure. I can't wait for the father's day when I can get Park one of these. Amazing, modern and stylish. You can't go wrong with any one of the Traeger grills.
4. Leatherman Free P2 -  One of the most beloved knife/tool brands recently came out with a new multi-tool and we were lucky enough to get our hands on one before they were released. Park did a video here with the knife making a personalized sheath for it. He uses it daily.
5. Coleman Mini Bike - The Lichfield family is obsessed with the Coleman mini bikes lately. Papa Lichfield and Park are starting up another YouTube Channel with all things mini bikes. Have the father in your life join the mini bike crew.
6. Hanks Kerchiefs - Colin Hanks came out with his line of Hanks Kerchiefs and they are the best accessory for any dad. He has some of the best designs so go pick a beaut out for a special dad. I may have "borrowed" Parks ;)
7. Stetson Hat - You can count on Park or me to be wearing a Stetson at all times. One of Park's favorite Stetson's is the Open Road. Take a look at their whole site and I know you will find a hat your dad will love.
 *Use Gift Guide Coupon Code for 10% off - 'STETSONDAD10' 
8. Stock & Barrel Wallet.  A minimalist wallet with a refined and timeless look. The vegetable tanned leather will earn a nice patina as it ages, and last damn near forever to boot. Just enough space for a man to bring along what he absolutely needs
            *Use Gift Guide coupon code for 15% off - 'FATHERSDAY15'
9. The DLS Shop Boot by Mark Albert Boots - Two of our favorite friends Bill from District Leather and Mark from Mark Albert boots came together to make one good looking pair of boots. Any dad would be pumped to get these beautiful pair of work boots.
10. Taylor Stitch Shirt - One of Park's favorite mens clothing company. They have everything from shirts, bottoms, accessories and even footwear. If you got looking around you will find too many GOOD things for that special dad in your life, so you have been warned.
 *Use Gift Guide Coupon Code for $20 off - 'S&BFATHERSDAY' 
(Code goes through Sunday the 16th)
Some other things we love by Taylor Stitch
The Camp Mug
The Camp Shorts - Khaki
The Powder Jacket
11. Molly Jogger Scrimshaw Knife Kit - Parker had to inform me of what Scrimshaw meant so I'll let you know too that it is an early American art form originating from the whaling industry in the late 1700's. The special dad in your life can experience this art form too. This kit includes all you'll need to complete the project and is a perfect starter introduction into scrimshaw.
- Use our Coupon Code - 'DADSDAY' for 15% off

Some other things we love by Molly Jogger
Ice Box
Journey West Blanket
Rudiments Care Kit
12. Seager Co Wilson Snapback - This vintage inspired snapback is seriously too cool for school. Check out everything on their site and you won't be let down. Everything is amazing and those dads in your life will love ANYTHING. 

Some other things we love by Seager Co
Lasso Outdoor Crushable Hat
Bolo Tee Natural
Service Beanie
Happy Happy Father's Day to all of you Father's out there! We are such lucky people to have such amazing Dad's in our lives want to wish our #stockerfam dads a Happy Father's Day! We especially want to wish our favorite Stock & Barrel Dad the happiest of Father's day! We love you forever Parker Paul and are the luckiest humans to get to be your family. 
Leave a comment below what you got your dad for Father's Day. Or tell me your favorite Father's Day gift you have ever gotten! Thank you for checking out our 2019 Father's Day Gift Guide.
Love 
The Lichfields
Whit & Park