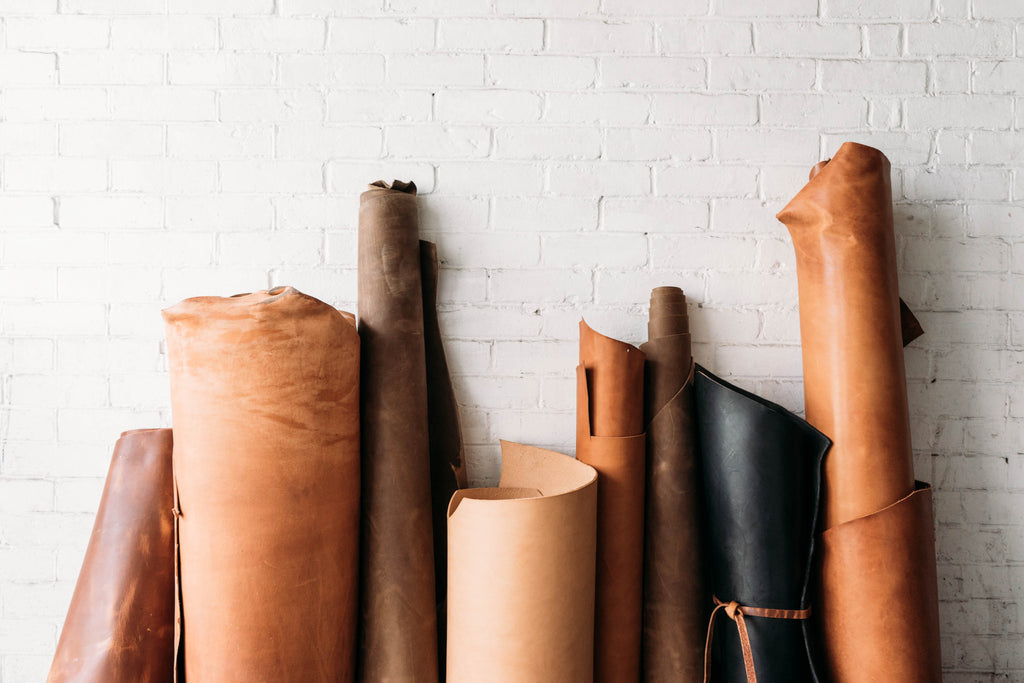 When I first walked into a Tandy Leather store for the first time, I knew I wanted to start working with leather, and I knew I wanted to make a bag, But I had NO idea where to start. I got lost in a sea of tools, rivets, hardware and even more daunting, the leather.  What would be the BEST type of leather to buy for my project?
I ended up with some leather that had all the right "looks", but once I got back home and started working with it, I immediately realized it was too thin and soft for what I needed. And as much as I learned from that first trip, it took years worth of failures and successes to dial it in.
Lucky for you, I went through that so you don't have to. Allow me to break it down nice and simple for you.  After reading this article, you should know exactly what the best type of leather to buy for your next project. 
First, Decide What your Project is...
If you decide you're going to make a belt, you'll be using a much different type of leather than you would use on a wallet. So if you want the best type of leather for your project, it's important to decide now before you start investing in expensive sides of leather. 
Compare the different types of leather
There's is an endless number of tanning methods, more than I'd like to mention here. For the sake of simplicity I'm going to focus on two of the more general and common types of leather.
Chrome Tanned - Makes up for 80% of leather in the world. Tanned using a solution of chemicals, acids and salts (including chromium sulphate). Though this process is not as environmentally friendly, the whole tanning process only takes about one day, which means mass production. It also allows for a lot more color options.
Chrome Tanned leather tends to be a lot more pliable and soft. Which can be a good thing in some cases, but make sure that if you're going to use it for straps, or high stress areas, you might want to reinforce it or it will stretch and grow weak over time. In my opinion, Some of the best chrome tanned leather is oil tanned. The leather is not actually tanned with oil - it's chrome tanned leather that has been treated with oil to make it more weather resistant.
Vegetable Tanned - This is the most traditional method of tanning, a craft process that has been handed down for 200 years. Unlike chrome tanning, veg tanning can take 40-60 days to produce a single hide. Vegetable tanning uses more natural ingredients which occur in the bark of Oak and Chestnut trees. This is what gives the leather a rich tan color which vary in natural tones.  Vegetable tanning is usually done in tanneries with a vibrant history, run by skilled artisans and craftsmen.
If you're looking for leather that is best for tooling, carving or forming, Veg-tan is your man. Most western tack (saddles, bridles, reins, harnesses, etc…) is crafted with vegetable tanned leather, but that's not all it's used for. Because of its rigid nature, Veg tan leather is best for belts, wallets, bags and straps. And the best part is, the leather gets better with age. After being exposed to the sun and natural oils for a couple months, vegetable tanned leather will start to caramelize and develop a gorgeous patina.
Measurements of Leather
This is a decision you'll want to dial in before you buy your leather. Generally leather is sold by the square foot. A full side is usually around 24 sq ft. But even more crucial, the thickness (weight) is measured in ounces. The guide pictured should be a good reference for you. Even though a tannery will run the hides through a splitting machine to reach the desired weight, there will still be some variation throughout the hide. This is why leather is usually advertised as a range of thickness For example,  4-6 oz. or 10-12 oz.
(Image sourced from Tandy's Leather Buying Guide)
As a general rule of thumb, If your project in mind is a….
Wallet - You will most likely want to go with a 3-4 oz hide. You'll need something quite thin for the intricate details and multiple layers. Plus, who wants to carry around a thick leather wallet? Our card hoarding tendencies are bad enough, I'd go with a thinner leather.
Or if you're making a…
Belt -  The best type of leather for making belts would be at least 8-9 oz. in weight. I wouldn't go very much lighter than that or it'll stretch out a lot faster than you're losing weight. Then when you find out the truth of what's really happening, you'll only be disappointed in yourself. Just avoid that all together.
When it comes to types of leather tanning methods and use cases, we've only scratched the surface here. But you should now have a MUCH better idea of what to look for when buying the best leather for your project.
Now that you know the type of leather you want, it's on to the next challenge. WHERE do i buy the best leather for my project? Keep an eye out for my upcoming post, Top 5 American Leather Tanneries.
What do YOU prefer? Veg-tanned or Chrome tanned leather?
FOLLOW US
Instagram Facebook Pinterest Youtube