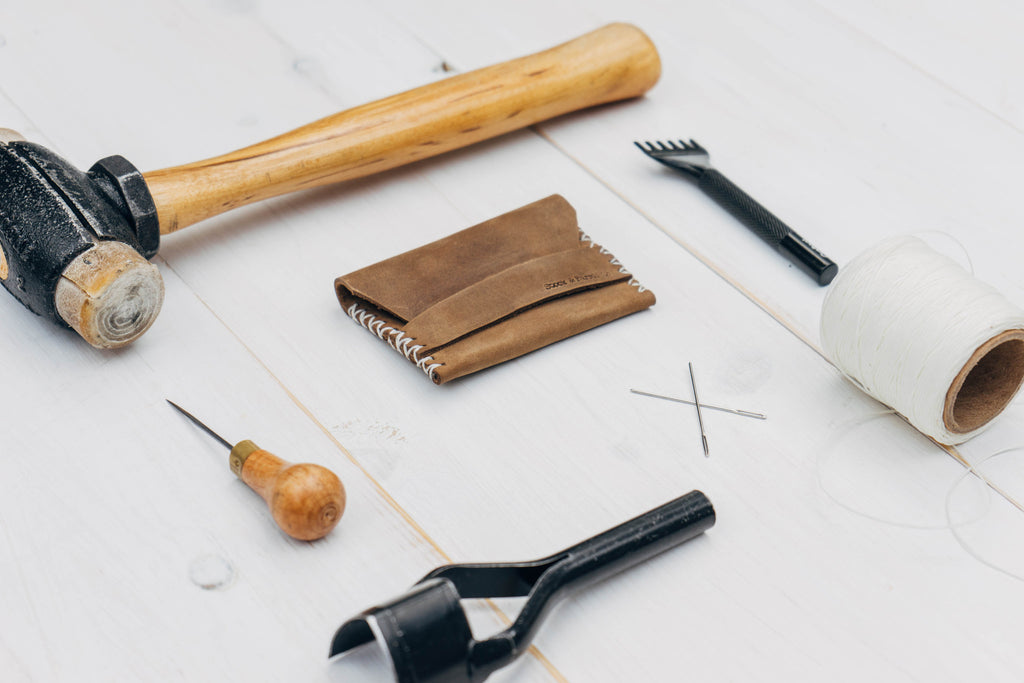 One of our best selling products was the No.20 Leather Card Holder. Now you can make your own in about 30 minutes. Watch the video below to learn how to make a card holder.
 Step One: Choose your Leather
Choose the leather you want your card holder to be made of. Most likely you have a Tandy Leather Factory in your area. That's a good place to start. But if you're not sure how to pick out leather, Read my article How to Choose the Best Type of Leather for your project. For this card holder, pick something that is around 3-5 oz in weight. Anything thinner than that will be too flimsy.
Step Two: Make Pattern
Make a pattern on Posterboard or illustrator and then print it (preferably on a thick card stock), then cut it out. Next, carefully trace the pattern onto your leather (we use a scratch awl), including the stitching holes. Make sure you're tracing it onto a good part of the hide. You don't want to do it TOO close the edges of the hide because it's usually really thin and low grain. We always avoid scars and brands. YOU might want that, but we choose not to include scars and brands for the products we sell.
Step Three: Cut out from Leather
Using a utility knife and a ruler, cut out the outside edges of your traced leather card holder. Then we used a Craft tool 6-prong chisel punch and a mallet for the stitching holes. If you don't want to buy a 6 prong, you can always use your trusty scratch awl to punch through the leather for your stitching holes. They're inexpensive and super versatile (probably our most used tool in the shop). For the interior indent (easier access to the cards), we use a 1.5" english point strap end punch. It's the same tool we use for the tips of our belts. If you don't have one, don't stress. You can cut out the same shape with a utility knife.
Step Four: Cross Stitch Both Sides
For our thread, we use a .04" waxed polyester cord from Maine Thread Company. Polyester is quite a bit stronger than cotton and the waxed coating really seals up the stitch well as it heats up from friction. Cut your thread about 4-5x the length of the stitch. Then thread a needle on each end of your thread. Begin to stitch each side. We chose to use a cross stitch for this piece, but you could go with a basic saddle stitch or anything else you prefer.
If you haven't stitched before and need a little direction, keep an eye out for upcoming posts with detailed tutorials on each type of stitch. For now, you should be able to google the names of any of those stitches and find something that helps. After stitching both sides, you're done! You just successfully created a No.20 | Leather Card Holder, which has consistently been a top seller for us. You should be able to comfortably fit 8 or 9 cards in your leather card holder. Keep in mind, leather craft is an art. Nothing here is verbatim. Let your imagination run wild and find ways to make your DIY leather card holder wallet project your own.
I would love to see your finished product! Send an email to parker@stockandbarrelco.com. What other projects would you like to see a tutorial for? Leave your answer in the comments
FOLLOW US
Instagram Facebook Pinterest Youtube