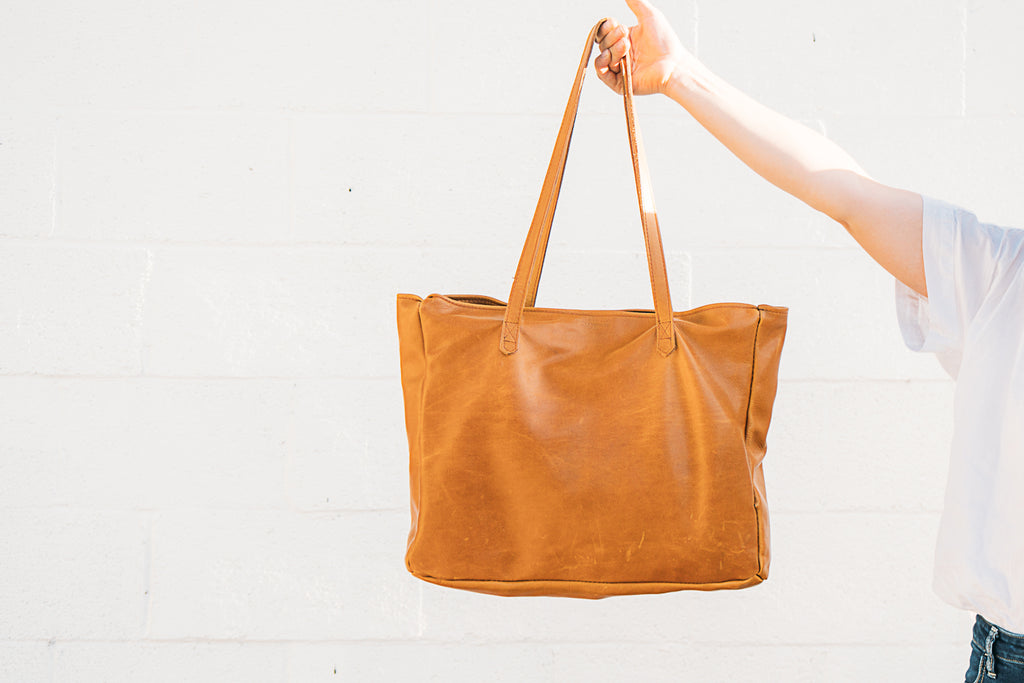 Today we are making a simple women's leather tote bag with a leather liner. Park had said on a previous video we are used to making bags using saddle and tack leather like skirting, harness, bridle, and tooling. But we've been wanting to try out something new and expand our skills in different areas. The tote bag pattern was extremely simple and I have put the dimensions below if you want to try this tote bag out as well with a nice little liner. Be Kind to me as this was the first bag I have stitched and designed all by myself. I have been doing leatherwork for about 4-5 years but this machine stitching is new to me (especially with Park not being in the shop with me) and Park is the better designer out of the two of us but we make a good deal.

I made my template with a white poster board with the dimensions listed below -

Dimensions of the bag template
*Main Body - 26 x 16
*Side Panels - 26 x 4
*Bottom Panels - 16 x 4
Strap Length - 30" Long by 3/4" Wide
Strap/Bag Overlap - 3'
----------------------------------------------------------------


"Start Selling Your Leatherwork" online course: https://www.stockandbarrelco.com/pages/start-selling-your-leatherwork"
_____________________________________________________________________
Shop our Leather Tools on Amazon - https://www.amazon.com/shop/stockandbarrel
Shop our Buckleguy links: https://bit.ly/35UW3nB
Shop our District Leather Supply Links: http://bit.ly/2X2bFEM
_____________________________________________________________________
*Tools/Materials/Supplies*
Mighty Wonder Clicker Press: http://bit.ly/mightywonder
Custom Dies: National Steel Rule Die, Inc. email nationaldie@gmail.com
2 oz. adhesive squeeze bottles: https://amzn.to/2BDi6nw
Water based adhesive:http://bit.ly/seiwaadhesive
Vernis Edge Paint: http://bit.ly/edgepaint
Edge paint roller pen: https://amzn.to/2wmoSZb
Wood Slicker: https://amzn.to/2w9EiAp
Cobra MP burnisher: http://bit.ly/mpburnisher
Juki 1508 industrial sewing machine: https://amzn.to/2oMGU3c
Consew Bell Skiver: http://bit.ly/bellskiver
Speed reducer: http://bit.ly/speedreducer
Thank you for shopping with our affiliate links and supporting us!

-----------------------------------------------------------------

Buy our digital patterns here:
https://www.stockandbarrelco.com/collections/templates

Use "YOUTUBE15" for 15% off your next order from our website

Shop Here: http://www.stockandbarrelco.com/

Follow Us @stockandbarrel

https://instagram.com/stockandbarrel/
https://www.pinterest.com/Stockandbarrel/
https://www.facebook.com/StockandBarrel

Or follow our personal feeds

Whitney's Instagram:
https://www.instagram.com/whitneylichfield/

Parker's Instagram:
https://www.instagram.com/parker_lichfield/Hello Beautiful Friends!